Hey there.  It's a great time to live in Sacramento.  Sure we have our challenges, but Sacramento will be back.  Sacramento was on a roll, remember?   On Capitol Mall, Samantha Fish sang to 5,000 Sac Republic Fans.  Downtown was rising to new heights.  DOCO, The Sawyer and many new spots to grab a brew or a bite had just opened.  Businesses wanted to be downtown. Well, all the things that revolutionized downtown Sacramento are still here, except for the people.
What's the State got to do with it?
Fortunately, I feel that at some point the State will need more space, and state employees will need to come back to the office. The State may only come back 60%,  which is not great, but I think that In the long run, we will have a healthy, balanced, and diversified business population downtown.  The office space will fill up and all will be good.  It's just a matter of time.
Downtown office development has been negligible, but a number of build-to-suit projects for the State of California totaling about 2 million SF are underway or recently completed. At Richards Boulevard and 7th Street, 1.2 Million SF is slated for completion in the spring of 2024. This project will draw tenants from downtown as well as South and North Natomas.
What is the actual vacancy rate?
Prior to the pandemic, Downtown office leasing was on fire, with a record-low vacancy and increasing lease rates. What a difference three years make. Since early 2020, the vacancy rate has been slowly increasing and currently sits around 10%. Frankly, the real vacancy rate seems feels like 20% because people continue to work from home, so the real vacancy rate is much higher than the data suggests.
The real impact of Covid on office occupancy will be fully realized as leases expire – when a lease expires the tenant will take the opportunity to modify their office usage. Some will remain the same, but a significant number, say 25%, of the private sector tenants, will reduce their square footage – either in a new building or by downsizing in their current office building. Other office tenants are considering moving to a suburban location. For example, Bacon CRE represented an established PR firm that downsized from 6,000 SF in 500 Capitol Mall to 3800 SF in a suburban location.  Over the past 12 months, rents have remained relatively flat.  Again, as leases expire and tenants downsize or move landlords will be compelled to reduce rates.
It's not all bad news!
There is some good news for downtown. HCL Tech signed a 21,000 SF lease at 621 Capitol Mall. As we move forward and memories fade, I think that we will see more tenants returning, or remaining, downtown. It is just going to take time. Another sign of good news – even though the State of CA intends on moving out of privately held office buildings, I have heard of a couple of large lease renewals getting done while a year ago they were planning to move out.  These renewals are in suburban locations and indicative of the State's propensity to change direction.
Buildings with historically low vacancies are looking/hoping for tenants
Buildings that have been historically at 95% leased have seen a significant increase in vacancies.  Look at the difference in vacancies from right before Covid to the present.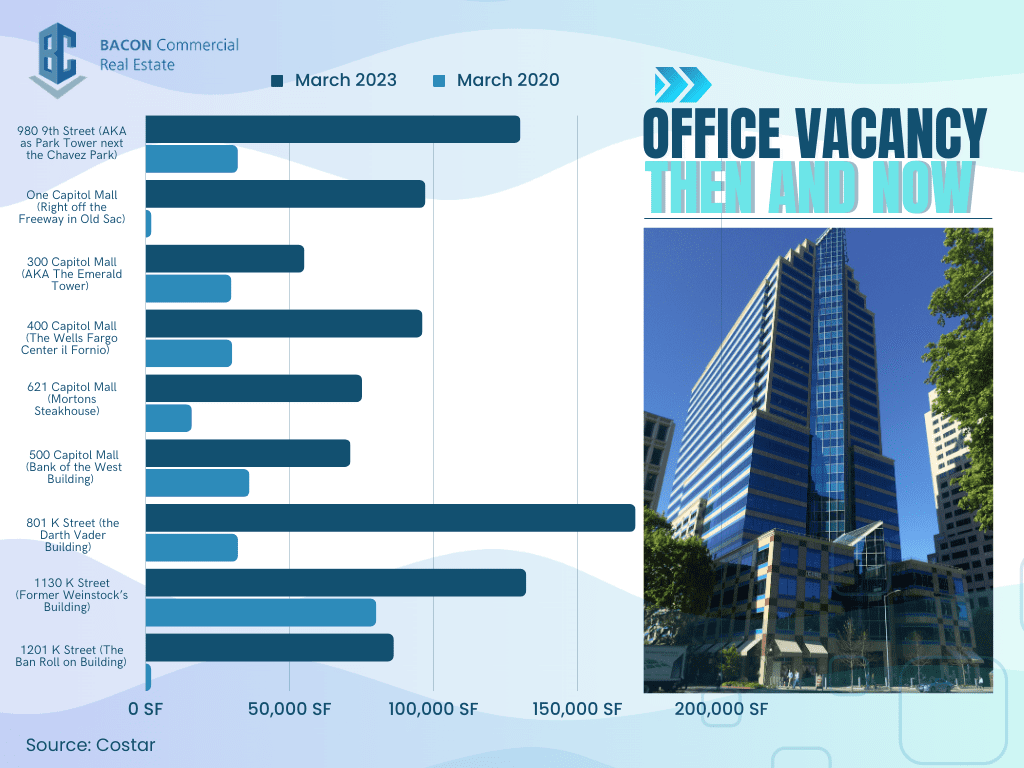 Need information about other submarkets in the Sacramento region?  Click on this link: Office Submarket Reports
The Future is Bright, it is just a little murky right now
It is just a matter of time until downtown office occupancy levels get back above 90%.  We have at least a year ahead where downtown leasing is going to be light and another two years to absorb the vacancies.  I think that building owners who can hold on will be sitting pretty in 3 years.  Inevitably, some buildings will struggle, and like other markets, lenders will be compelled to foreclose.  The last thing a bank wants to do is foreclose on an office building, so lenders will (should) work with the property owners.  I wonder if we will see RTC 2.0?
Until the recovery happens, my money is on the King's!  Light the Beam!  Have any questions or need some help working through something?  Call Bacon!