Sacramento Office Market Review November 2020
Since March 2020, the Sacramento office market has maintained occupancy levels. Sacramento tenants – from the State of California to law firms – are beginning to take steps to reinvent how they operate and what the corresponding office solutions will be. Over the last 5 years, Sacramento's average rents have increased steadily because tenant demand has diversified and has been strong. Going forward, it is going to be choppy sailing, with little wind.
Disruption. C19 combined with political division is disrupting and turning commercial real estate on its head. For a few business leaders it is paralyzing, but for most it has inspired the C Suite to look at things (like their employees) differently. Most business leaders are undeterred and they are navigating through uncharted waters. Most have been moving deliberately, learning as they go. It seems that the longer this pandemic upwardly ebbs and flows, companies are beginning to act on repositioning their facility needs. For anyone to suggest that we are not going to see a long-term decrease in office space demand, they either own a publicly traded Office REIT or they are working on a large portfolio refinance with their lender.
Leasing is at its lowest point since 2008. There have been few bright spots; UC Davis committed to over 200,000 S.F. on White Rock Road in Rancho Cordova. Before Covid hit, Sacramento's overall vacancy was hovering around 9%. According to Costar, it is projected to increase to about 11% by 2022. Many of the top lease deals in the last 12 months are medical related; they include UC Davis, Covered CA, eHealth, Magellan Health and Anthem Blue Cross.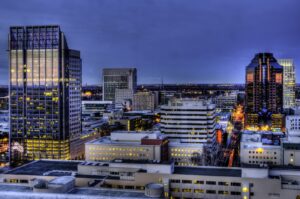 Rents had been increasing steadily – for the last 5 years, rent had increased 5% year over year. But now Demand has fallen off, and we expect rents to drop in non-critical locations. A critical location is defined as a location where a tenant must be, say walking distance to the State Capitol or next to a Hospital. The office market has yet to significantly reset rents because institutional investors are holding onto "proformas." Also, tenants still have leases with term left. But as leases start to roll, many tenants are going to decrease their footprint, and when this happens, we will see rents start to creep down. I have seen this cycle several times, and the landlords who do not act, will end up following the market down.
The Elephant in the Room is getting too big to ignore. The State of California is most likely going to significantly reduce how much space it occupies. And as I write this The State is in the process of developing 1.5 Million S.F. in three downtown projects: the California Natural Resources Building (840,000 SF), Capitol Annex Expansion (470,000 SF), and DGS at 1215 O Street (360,000 SF). Recently a large state agency decided not to take approximately 70,000 S.F. at 621 Capitol Mall. So if the State isn't going to take the space, who will? What firms are expanding that want to make a long term lease commitment to pay over $3.00 a foot for downtown space when there are limited services available in the near term.
If the State of CA starts to reduce its footprint, then as the projects listed above get completed and the State starts consolidations, there will be additional space dumped on the market. A lot of this State space is functionally obsolete and in need of significant upgrades. Check out the recent article about the State's Leasing appetite.
The Downtown Market has historically led the region with the highest rents, and up until March 2020, Downtown was on a roll. Now, the luster has faded since all the amenities that made downtown the place to be – are shuttered. We will see some tenants move out of downtown to suburban markets like South Natomas, Campus Commons, Point West and Highway 50. I am still a big believer in downtown, and it will be back. It is just going to take time. For restaurants, bars and entertainment venues, building owners will need to discount rents in the short term to help businesses survive. Landlords and retail tenants need to be partners. Michael Ault and the Downtown Partnership team has worked tirelessly for nearly 20 years to build up downtown, and now they are working even harder to put the pieces back together.
If your company is still trying to determine how to move forward, Bacon Commercial can help. Bacon Commercial complements its in-depth market perspective with design professionals to guide companies through the process of assessing organizational needs and translating this into office space solutions. Once you know what you want, then Bacon Commercial executes.
Contact BaconCRE if you need more information about the commercial real estate market, how your current facility stacks up in the market (your lease or the building you own) or you need to renegotiate you lease or find an alternative office, BaconCRE will take care of it. That is what BaconCRE has been doing in Sacramento and beyond since 1991. Contact me at [email protected] or (916) 761-1202.