Where have all the deals gone?  Long escrows, no deal flow….
I don't understand why more college graduates aren't flocking to the dynamic and bone-crushing commercial real estate business.  You can work whenever you want, sleep in, and there is no limit on what you can make!  But this business is tough and it takes long days for a couple years to start seeing consistent results.  From 2010 to 2020, if you showed up,  it was pretty easy to make a buck.  Not right now!
When I graduated from college I got my first job in commercial real estate.  I had no idea what I was getting into.  The Charles Dunn Company gave me a shot.  On my first day, my manager, Larry Batliner,  took me to a martini lunch at the Velvet Turtle in Encino.  This is the type of place you bring sunglasses because when you walk outside you'd be blinded by the light.  Larry ordered martinis.  Larry told me stories. Larry ordered lunch and another round of martinis.  The lunch was magical.
Larry asked me if I wanted to work under a senior agent.  I said, "Oh Larry, I got this!."  Larry was grinning like the Grinch and said, "Really, you got this?"  "Yep," I chirped back. "I got my license and I read a bunch of books!"  Larry ordered us another martini.  Two hours later, I was back at the office. I had no idea what I was doing.   There is a reason most college kids got a job with companies like Xerox or IBM – they essentially learn how to function in the business world.
Fast forward 39 years.  Finally, I know what I am doing!  Yes, it took a while, but I have always been a late bloomer.  In 2023,  it's a good thing I know what I am doing because deal volume is off by about 75%, and if you have a deal going, there's a 50-50 chance the deal will make.
Deals are tough; insurance and financing are compounding the difficulty factor.  To illustrate, here are three deals I just wrapped up.
Deal # 1:  Sale of Faces Property in Midtown.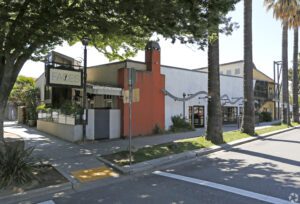 Faces is located at 2000 K Street, caddy corner from MAARS.  With this deal there was no issue with financing because the deal was all cash.  Insurance wasn't an issue either because the owner of the business bought the building.  In addition, the deal only took – from the initial conversation to close off escrow – about 30 days.  The only requirement from the buyer was that the property's title was clean.  The owner of the business was the only viable buyer because he had a very long lease at rents 60% below market.  This deal is similar to the sale of the Fox and the Goose property 20 years ago.  More on this next week.
Deal #2:  Sale of 2230 K Street – a vacant two-story duplex being used as an office.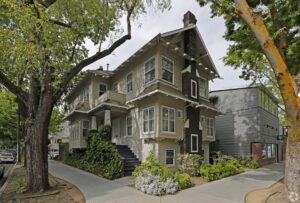 2230 K Street had been occupied by an office user for about 20 years.  Everything about the property needed to be redone except for the roof and the foundation.  Since I knew a residential buyer was the most viable prospect, I put the property on the MLS.  90% of all tours were with residential buyers. The initial asking price was $995,000.  After 60 days we dropped the price to $895,000.  We eventually sold it for $850,000.  The buyer was all cash, so no financing, appraisal or brain damage was necessary.
Do you know what else was not required to close escrow? – Insurance. While it is not advised, without a lender,  you don't need insurance to close.  Two weeks after escrow closed, the new owner still didn't have insurance.  Many insurance companies are not even writing new policies in California.  This building was difficult to insure because it's over 100 years old.
Brian Baraga of Guide Real Estate did a great job representing the Buyer.  This was a true Win Win.
Deal #3:  Sale of a 10,000 SF office building surrounded by homeless tents.
For a variety of reasons, this property was an ideal fit for my client.  They were able to move into the entire ground floor with virtually no improvements.  The building had been on the market for over a year.  The price was reduced so the deal seemed to make sense.  We opened escrow in March with a targeted May 30th closing date.
Around April 15, the financing contingency date was fast approaching.  The loan committee nixed the deal.  This was not right!  My client was the perfect buyer, and the seller was motivated to sell.  So I convinced the Bank to take another look at the deal.
This deal is the most excruciating deal I have ever worked on.  This deal required seven (SEVEN)  escrow extensions. But when the dust settled, we were set to close on August 31.  The buyer and seller had signed all docs, and the buyer's downpayment was in escrow.  The lender assured us on August 28th that they were ready to close.
To be safe,  I called the loan officer on August 29th to see if there was anything outstanding.  Surprise!  There was an insurance issue, and we had one day to work it out.  If I hadn't called, the bank would have called us on closing day saying, "Sorry there is an insurance issue, so we cannot fund this loan today."
The insurance issue was resolved at 5:04 on August 30. The deal closed the next morning.  
This deal would not have happened without the professionalism of Mike Luca, Nellie Cruz, Jana Meyers, and Dominic Smith from CBRE.